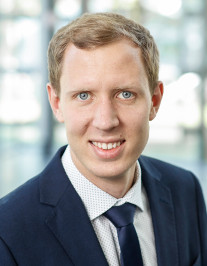 M.Sc. Nils Hillebrandt
Fritz-Haber-Weg 2
Gebäude 30.44
76131 Karlsruhe
Lebenslauf und Publikationen
Scientific CV
02/2018 - now
PhD student
Institute of Engineering in Life Sciences, Section IV: Biomolecular Separation Engineering at Karlsruhe Institute of Technology (KIT)
09/2017 - 01/2018
Research assistant


Experiments on on-line monitoring of virus-like particle assembly


Institute of Engineering in Life Sciences, Section IV: Biomolecular Separation Engineering at Karlsruhe Institute of Technology (KIT)
10/2016 - 02/2017
Semester abroad
Loughborough University, United Kingdom
06/2015 - 09/2016
Student assistant
Development of a bioprinter (by modification of a 3D printer) and a corresponding software interface
Institute of Engineering in Life Sciences, Section IV: Biomolecular Separation Engineering at Karlsruhe Institute of Technology (KIT)
11/2014 - 03/2015
Internship


Fermentation development and filtration optimization for DNA vaccine production


Custom Development for Upstream Processing, Lonza AG, Visp, Switzerland
10/2014 - 08/2017
Studies of Bioengineering (M.Sc)
Master thesis:

Development and application of a PAT platform for monitoring the reassembly of virus-like particles by tangential flow filtration


Karlsruhe Institute of Technology (KIT)
05/2012 - 10/2014
Student assistant


Maintenance and supervision of bio reactors, performance of experiments and analysis


Engler-Bunte-Institute, Chair of Water Chemistry and Water Technology at Karlsruhe Institute of Technology (KIT) & Water Technology Center Karlsruhe
10/2011 - 10/2014
Studies of Bioengineering (B.Sc)
Bachelor thesis:

Purification and characterization of a transaminase from

Variovorax paradoxus
Karlsruhe Institute of Technology (KIT)
Research Projects
Development of an automated high frequency rheometer for high-throughput analysis of viscoelastic properties of highly concentrated protein solutions.
Advancing ultra- and diafiltration by online monitoring, scale-down strategies and modeling.
Teaching
Supervision of laboratory training Biotechnologie (Section: Purification) and Profilfach Biotechnologie.
Publications
Paper
C. P. Radtke, N. Hillebrandt, J. Hubbuch, The Biomaker: an entry-level bioprinting device for biotechnological applications, J. Chem. Technol. Biotechnol., (2017), http://dx.doi.org/10.1002/jctb.5429.